Following is the beginning of the McGee family tree as more information becomes available regarding the siblings of Mazie and Cyrus (better known as Bunny), I will add to this family tree. All family members are welcome to share their information to help add to this tree. At the bottom of this page you will find an informational form. If you supply the information you have on your family history and e-mail me photos I will begin to build more pages of various family histories. I hope you will help us build our family pages.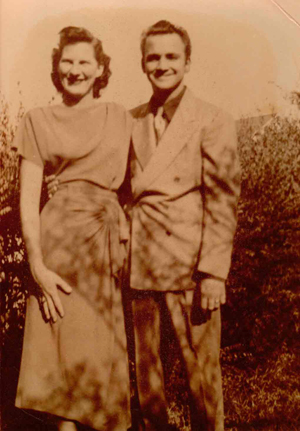 Mazie and Bunny married in 10-6-1952. Mazie had a son, Earl Francis Bernard whom was adopted by Bunny and soon became Earl McGee born 6-7-1950. Soon after marriage Bunny, who was a merchant marine stopped shipping out and family life began to grow with the addition of daughter Melissa Ann McGee 12-27-1953. Bunny began to provide for his family as a house builder in the construction trade and soon two more children were added to the family, Kathleen Marie McGee 7-29-1955 and Troy Allen McGee 10-11-1956. Bunny began to acquire a demand for his talents as a builder and soon added carpenter to his many talents. Mazie was a mother and homemaker until the children ranged in age from 16 to 10 when the family began to work hail storms, when Mazie became mom, wife and office assistance. Bunny was a free lancer working with insurance adjusters to repair roofs. This entailed learning bookkeeping and office skills for Mazie who stepped up to the task and they became a team that would last 43 years until the death of Bunny in August 1995.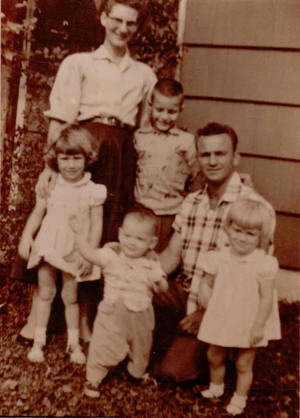 Bunny's health had not kept him down. He suffered a stroke in 1987 and lost his speech and use of his right side. After the family educated themselves and helped him with his speech and physical therapy he began to seek other jobs he could. He and Mazie delivered papers in Quail Valley, CA for several years and after acquiring a home with Kathleen in Bullhead City, AZ he continued to do construction work. The concrete work, driveway an cover as well as the shed were built by Bunny with help from family members. The move to Bullhead City geographically located the three to be the between point for Earl and Melissa who had families in CA and AZ. Many Thanksgivings and Christmases were spent celebrating in the home in Bullhead City. There were many travels in between the beginning home and the last home Bunny and Mazie shared. During all the travels they showed the children many of the wondrous sights in the United States. Things like Mount Rushmore and Carlsbad Caverns. Redwood Forest and the Painted Desert. Mazie became an avid rock collector and had many souvenirs from many historical sights. When traveling from one location to another the couple always managed to find a route that held and adventure for the young children. Although there were flush times during the early childhood of the children money was tight but the family never wanted for adventure or fun, even when it was work.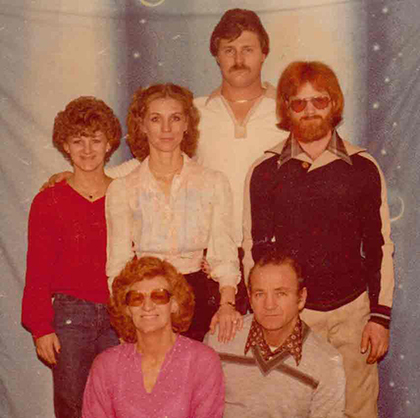 As adults the children learned the lesson of hard work and play well. Earl joined the Marines and became a Drill Sargent on his second reenlistment. After the Marines he became a Deputy Sheriff for Orange County and an Officer Mounted Police. He enjoyed the horses the most and brought fond memories of days on the 160 acre farm that was home for 10 years. Earl married Leah Jo Kester in 1968 and had two daughters-Racheal Ann and Charlotte Marie. Between the two of them they have given him 5 grandchildren. Earl and Jody remain married today.
Melissa married her high school sweetheart, Stephen Angus. They had two children Stephen Angus II and Micah Seth. Micah died in infancy. After 10 years of marriage they divorced and Melissa went to school for real estate, before she got her license she proceeded her dream and became licensed as a Cosmetologist in Ca and went on to own her own business for many years. In 1986 she gave birth to a daughter Danielle. When Steve was 15 and Danielle was 3 she again married Lee Simpson whom she was married to for 10 years. During her marriage to Lee she also acquired two daughters Sarah and Cassie. At present she is raising her granddaughter by Savannah (by Sarah) and has a grandson Saxton by Danielle and a granddaughter Zoe by Stephen. Currently residing in sunny Arizona seeking work and enjoying the golden years.
Kathy after high school joined the Army where she did a stint in Korea and became a veteran. As a mechanic in the Army she learned allot about discipline and maintenance. After returning to the states and going to college she was introduced to the art of bodybuilding and became a competitor on the circuit. She won many awards during her competition. After two marriages and the need to grow she became partners with her sister Melissa and they owned a salon and gym in rural Texas. After moving with her parents to Bullhead City, AZ she met and married Larry Lane and is married to this day. Kathy and Larry's children are their pets and orchard.
Troy was a bit of a wild card. He took off one day and lived all over. After some time he settled in Ames, Iowa and married Nancy Webster. They had three children Tiiu, Alisha and Ryan. Troy partnered up with his father and they ran a very lucrative carpentry business for 20 years. At he and Nancy separated and he moved back to Ames, Iowa where he was diagnosed with Retinitus Pigmentosis, a genetic degenerative disease that will eventually lead to complete blindness. Although he has limited sight he enjoys building and working and keeping busy. He gardens and hikes with his trusty dog George. Troy has 4 grand kids. Brooklyn and Peyton by Tiiu, Kendall and Kylee (the twins) by Alisha.
As time allows I will continue to add information and links to pages sharing each of our lives in living photos. Thank you for viewing our pages and feel free to fill the form out below to have your family stories included.